-Lurid Crime Tales-
Kenya Rangers Gun Down 5 Suspected Elephant Poachers
[An Nahar] Kenyan rangers

rubbed out

five suspected elephant poachers in a night-time firefight in the north of the country, the Kenya Wildlife Service (KWS) said on Saturday.

"Five suspected poachers were last night

bumped off

and one

beat feet

during a fierce exchange of fire with Kenya Wildlife Service rangers at Chepareria in West Pokot County," it said.

Two rangers were

maimed

in the firefight which went on for more than 40 minutes, the KWS said, adding that it had recovered 50 kilograms of elephant tusks and three assault rifles at the scene.


This article starring:
Kenya Wildlife Service
Posted by: Fred || 04/22/2012 00:00 || Comments || Link || E-Mail|| [154 views] Top||
Africa North
3 Killed in South Libya Clashes
[An Nahar] Fresh fighting flared in the Libyan Desert town of Kufra overnight leaving three people dead and 17 others

maimed

, local sources told Agence

La Belle France

Presse on Saturday.

"The situation is very bad," Toubu tribe leader Issa Abdelmajid Mansour told AFP in reference to fresh fighting in Kufra, where tribal

festivities

claimed more than 100 lives in February.

He said that Toubu living in the southeastern town were attacked on Friday by what was meant to be a peacekeeping brigade, Shield Libya, under defense ministry command.

Mansur said cries for help to the national army had fallen on deaf ears.

"No one has come yet and we are still under fire," he said.

Residents in a Toubu neighborhood said there was intermittent fighting since the morning.

"They've been firing since 6 am," a resident told AFP by telephone, adding that it was unclear what brought on the fighting.

A nurse in a Toubu residential area said the

festivities

were continuing.

"We have three people dead and at least 17 people

maimed

," until now, a nurse in a clinic in a Toubu residential area told AFP, adding that the majority of the

maimed

were

at death's door

.

He expected that number to rise because "

festivities

are ongoing and the clinic can only provide primary care."

Gunfire could be heard in the background of both testimonies.

On Friday, Wissam Ben Hamid, head of the Shield Libya brigade, said that fighting erupted after Zwai

primitive

rubbed out

a Toubu man.

"The Toubu reacted by firing on every car passing near their neighborhood," Hamid told AFP, adding three of his men were

maimed

.

"We asked them to pull back in vain," he said.

On Saturday, Colonel Fradj Bushaala, a local representative of the defense ministry, told AFP that fighting had stopped and "negotiations were underway between tribal leaders to settle the problem once and for all."

In February, the

festivities

pitting Toubu against Zwai

rustics

in Kufra that cost more than 100 lives also displaced half the population, according to UN figures.

Libya's nascent army intervened by sending a brigade of former rebel fighters to uphold a hard-won ceasefire between the two camps.

Kufra, a town of about 40,000, is located in a triangle where the borders of Egypt, Chad and Sudan meet.

The Toubu, who are dark-skinned and present in southeast Libya as well as in Chad, Sudan and Niger, faced discrimination under toppled Libyan leader Muammar Qadaffy's


...a proud Arab institution for 42 years, now among the dear departed, though not the dearest...


regime.

Posted by: Fred || 04/22/2012 00:00 || Comments || Link || E-Mail|| [167 views] Top||
Africa Subsaharan
Two officials vow not to challenge ailing Mugabe for top post
[Daily Nation (Kenya)]
Two

bigwig

s from President Bob Muggsy Mugabe's


Octogenarian President-for-Life of Zim-bob-we who turned the former Breadbasket of Africa into the African Basket Case...


Zanu PF widely reported to harbour presidential ambitions say they will not challenge the veteran ruler as long as he is still in power.

Vice-President Joice Mujuru described the 88-year-old President Mugabe, who is reportedly battling against ill-health, as a "gift to the nation".

Defence minister Emmerson Mnangagwa also dismissed reports by

Britannia

's Telegraph newspaper that he had reached a secret pact with the long-serving ruler to take over the reins when he steps down due to ill-health.

The two reportedly lead two Zanu PF factions angling to take over from President Mugabe when he decides to retire or in the event of his death.

Ms Mujuru, whose late husband General (rtd) Solomon Mujuru was considered a powerful power broker in Zanu PF, is seen as one of the leading contenders for the job.

She has been in President Mugabe's cabinet since independence in 1980. "I have known him for 37 years," she told a function on Friday that was also attended by the Zanu PF leader.



"Our problem as Zim-bob-weans is that we do not understand our president. Had we understood him well, we were not going to have any challenges."

"Our problem as Zim-bob-weans is that we do not understand our president.

"Had we understood him well, we were not going to have any challenges. I will never challenge him as long as he is still in power," she said.

Mr Mnangagwa told students at a university in the city of Gweru that he was surprised to see reports linking him to the presidency.

"I was as surprised as you to learn there was a pact between the president and myself to take over office," he said. "I also read about it in the Press.

"This is a strategy by our enemies but we are too mature and intelligent as a nation to fall for that.

"We do not read much into that." Senior Zanu PF officials have admitted that the party is riddled with factionalism fuelled by campaigns to succeed the ageing leader.

In interviews to mark in his 88 birthday in February, President Mugabe said he was not ready to retire because he feared his departure will worsen the infighting.

Posted by: Fred || 04/22/2012 00:00 || Comments || Link || E-Mail|| [156 views] Top||
China-Japan-Koreas
China military warns of confrontation over seas
BEIJING: China's military warned the United States on Saturday that US-Philippine military exercises have raised risks of armed confrontation over the disputed South China Sea in the toughest high-level warning yet after weeks of tensions.

China's official Liberation Army Daily warned that recent jostling with the Philippines over disputed seas where both countries have sent ships could boil over into outright conflict, and laid much of the blame at Washington's door.


What's theirs is theirs, and they'll then talk about what's yours...

This week American and Filipino troops launched a fortnight of annual naval drills amid the stand-off between Beijing and Manila, who have accused each other of encroaching on sovereign seas near the Scarborough Shoal, west of a former US navy base at Subic Bay.

The joint exercises are held in different seas around the Philippines; the leg that takes place in the South China Sea area starts on Monday.

"Anyone with clear eyes saw long ago that behind these drills is reflected a mentality that will lead the South China Sea issue down a fork in the road toward military confrontation and resolution through armed force," said the commentary in the Chinese paper, which is the chief mouthpiece of the People's Liberation Army.

"Through this kind of meddling and intervention, the United States will only stir up the entire South China Sea situation toward increasing chaos, and this will inevitably have a massive impact on regional peace and stability."

Up to now, China has chided the Philippines over the dispute about the uninhabited shoal known in the Philippines as the Panatag Shoal and which China calls Huangyan, about 124 nautical miles off the main Philippine island of Luzon.

China has territorial disputes with the Philippines, Vietnam, Brunei, Malaysia and Taiwan across the South China Sea, which could be rich in oil and gas and is spanned by busy shipping lanes.

Major General Luo Yuan, a retired PLA researcher well-known for his hawkish views, amplified the warnings from Beijing issued through state media.

"China has already shown enough restraint and patience over this incident," Luo said of the friction with Manila, according to an interview published on Chinese state television's website.

If the Philippines "takes irrational actions, then the current confrontation could intensify, and the Chinese navy will certainly not stand idly by," he added.

Beijing has sought to resolve the disputes one-on-one with the countries involved but there is worry among its neighbors over what some see as growing Chinese assertiveness in staking claims over the seas and various islands, reefs and shoals. In past patches of tension over disputed seas, hawkish Chinese military voices have also risen, only to be later reined in by the government. The same could be true this time.

Since late 2010, China has sought to cool tensions with the United States. Especially with the ruling Chinese Party preoccupied with a leadership succession late in 2012, Beijing has stressed hopes for steady relations throughout this year. Nonetheless, experts have said that China remains wary of US military intentions across the Asia-Pacific, especially in the wake of the Obama administration's vows to "pivot" to the region, reinvigorating diplomatic and security ties with allies.

The Liberation Army Daily commentary echoed that wariness.

"The United States' intention of trying to draw more countries into stirring up the situation in the South China Sea is being brandished to the full," said the newspaper.
Posted by: Steve White || 04/22/2012 00:00 || Comments || Link || E-Mail|| [164 views] Top||
Europe
Hollande wins first round with 27.5 per cent
voting for Socialism won't make the debt crisis go away. Jeebus


Francois Hollande has secured 27.5 per cent of the votes cast in the first round of the presidential elections, with about 33 per cent of the ballots counted. Nicholas Sarkozy is trailing his Socialist rival with 26.6 per cent of the vote.


not so far apart...now the second round


­Far-right candidate Marine le Pen has secured third place with 19.9 per cent of the vote, according to figures released by the Interior Ministry.

Left-wing hopeful Jean-Luc Melenchon has got some 11 per cent of the ballots.


80% turnout is what they're saying...
Posted by: Frank G || 04/22/2012 14:55 || Comments || Link || E-Mail|| [168 views] Top||
India-Pakistan
Acid thrower awarded capital punishment
[Dawn]
Additional Sessions Judge of Rawalpindi Mohammad Naveed Iqbal on Friday announced death sentence for an acid thrower who took the life of her ex-girlfriend in 2009 by burning her face and sensitive body parts with it.


He'll be dead soon. Look how quickly they executed Omar Saeed Sheikh...


The court also imposed a fine of Rs500,000 on the convict Mohammad Asif. However,


if you can't be a good example, then you'll just have to be a horrible warning...


the co-accused in the case -- Abrar Ahmed and Abdul Waheed -- were acquitted for want of evidence.

According to the prosecution, Asif, a friend of deceased Gulnaz Bibi 27, was annoyed at her as she got married with another man Riaz Shah. In order to satisfy his anger and to take


Dire Revenge™

he threw acid on her burning her body parts.

An FIR of the case registered in R. A. Bazaar

cop shoppe

by Nasreen Bibi, a sister in law of

the dear departed

, said Gulnaz told her on telephone on June 5, 2009 that she was visiting a shrine of Baba Gohar Ali Shah along with her friend Asif.

Nasreen said Asif got angry with Gulnaz over a minor dispute and left her in the cab saying he had to buy something from a nearby shop. Then Asif brought acid and threw it on Gulnaz. Nasreen claimed to have heard cries of Gulnaz on telephone.

The prosecution told the court that police found the victim injured. Gulnaz was shifted to District Headquarters (DHQ) hospital where doctors declared that acid had burnt her body at four points severely.

According to medical report, the victim's face including eyes, back, sensitive body parts and arms were burnt in the attack. Gulnaz kept hospitalised for 26 days and on July 1, 2009 she finally succumbed to her injuries.

The acid thrower Asif after the incident

beat feet

from the scene, he remained an absconder for two years but surrendered himself to the police on July 8, 2011.

Posted by: Fred || 04/22/2012 00:00 || Comments || Link || E-Mail|| [160 views] Top||
Science & Technology
Sonic Screwdriver invented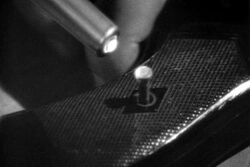 Image from The War Games, Patrick Troughton's final story.
You know technology is advancing fast when tools from science fiction shows start to become a reality. Scientists at the University of Dundee decided that Doctor Who shouldn't be the only one enjoying a Sonic Screwdriver, so they took equipment designed for MRI-guided focused ultrasound surgery and developed their own.


It's unlikely to be able to detect antimatter, ignite swamp gas, detonate land mines, etc., though.


When the scriptwriters for Doctor Who imagined a futuristic device, they came up with the Sonic Screwdriver. Now a team of physicists at the University of Dundee have taken equipment designed for MRI-guided focused ultrasound surgery and demonstrated a real Sonic Screwdriver -- lifting and spinning a free-floating 10 cm diameter rubber disk with an ultrasound beam.

The Dundee researchers used energy from an ultrasound array to form a beam that can both carry momentum to push away an object in its path and, by using a beam shaped like a helix or vortex, cause the object to rotate.

"This experiment not only confirms a fundamental physics theory but also demonstrates a new level of control over ultrasound beams which can also be applied to non-invasive ultrasound surgery, targeted drug delivery and ultrasonic manipulation of cells," said Dr Mike MacDonald, of the Institute for Medical Science and Technology (IMSAT) at Dundee.

The results of the 'sonic screwdriver' experiment are published in the American Physical Society's journal Physical Review Letters.


It also gained the Daleks' attention. Hopefully, the non-stair-mastering Classic Series Renegades.


The theory the Dundee researchers were testing is valid for both sound and light and is one that is used in topics from quantum communications to biophotonics but which had not previously been proved in a single experiment. The theory states that the ratio of angular momentum to energy in a vortex beam is equal to the ratio of the number of intertwined helices to the frequency of the beam.

"For the first time, our experimental results confirm directly the validity of this fundamental theory," said Dr Christine Demore, from IMSAT. "Previously this ratio could only be assumed from theory as the angular momentum and power in a beam had only ever been measured independently."

The ultrasound beam generated by the Dundee team resembles the 'double-helix' structure of DNA but with many more twisted strands, or helices. This vortex beam generates a rotating, angular component of momentum that can exert torque on an object. In the recent publication they showed how they could generate vortex beams with many intertwined helices, using a 1000-element ultrasound transducer array as an acoustic hologram. These beams are powerful enough to levitate and spin the 90g disk made of ultrasonic absorber in water.

The research forms part of a UK-wide Engineering and Physical Sciences Research Council (EPSRC) project known as 'Sonotweezers', which involves the Universities of Bristol, Dundee, Glasgow and Southampton as well as seven industry partners. SonotweezersTM aim to bring dexterity and flexibility to ultrasonic manipulation, allowing applications in a wide range of topics including regenerative medicine, tissue engineering, developmental biology and physics.

"The 'sonic screwdriver' device is also part of the EU-funded Nanoporation project where we are already starting to push the boundaries of what ultrasound can do in terms of targeted drug delivery and targeted cellular surgery," said Dr MacDonald. "It is an area that has great potential for developing new surgical techniques, among other applications, something which Dundee is very much at the forefront of.

"Like Dr Who's own device, our sonic screwdriver is capable of much more than just spinning things around."


Don't let the WOTAN machine fool you; he's "the Doctor", not "Doctor Who".
Posted by: Korora || 04/22/2012 13:18 || Comments || Link || E-Mail|| [161 views] Top||


Meet the Mods
In no particular order...


Steve White
Seafarious
Pappy
lotp
Scooter McGruder
john frum
tu3031
badanov
sherry
ryuge
GolfBravoUSMC
Bright Pebbles
trailing wife
Gloria
Fred



Better than the average link...



Rantburg was assembled from recycled algorithms in the United States of America. No trees were destroyed in the production of this weblog. We did hurt some, though. Sorry.
50.17.109.248