Afghanistan
US Provided $7.9B to Afghan Air Force Since 2010: SIGAR
[ToloNews] A quarterly report by the United States Special Inspector to Afghanistan, or SIGAR, released on Oct. 30, reveals that the US provided up to $7.9 billion to support and develop the Afghan Air Force, or AFF, between 2010 to 2019.

The report says $1.7 billion of the total amount was allocated for fiscal year 2019, which is $71.9 million less than what SIGAR reported last quarter.

The report says the funds allocated to the Afghan Air Force in 2019 was $295.4 million more than the money allocated to other elements of the Afghan National Defense and Security Forces, or ANDSF.

But former Air Force officials said the US fund to the AFF is not sufficient and that any fundamental work has not been done in this sector.

"This is not an air force. It is a little better than zero. I mean that they have neither proper combat aircraft nor transportation aircraft or combat and intelligence helicopters. The United States assistance has been insufficient and is not worth mentioning," said Gen. Atiqullah Amarkhail (Ret.), a military analyst and former commander of the Afghan Air Force.

"Used aircraft have been sent to Afghanistan. You witnessed how many helicopters crash-landed recently... Therefore, our Air Force is 'very weak'," said Mohammad Hashim Alokozai, a member of the Afghan Senate's Defense Committee.

The AAF's current in-country inventory, as of October 1, 2019, includes 183 aircraft (158 of which are operational).

The SIGAR report shows that as in previous years, a large portion of the AAF's fiscal year 2019 funds has been designated for AAF sustainment costs ($842.1 million, or 51%).

These funds, the report says, are primarily used to pay for contractor-provided maintenance, major and minor repairs, and procurement of parts and supplies for the AAF's in-country inventory of seven air platforms: UH-60, MD-530, and Mi-17 helicopters; A-29, C-208, and AC-208 fixed-wing aircraft; and C-130 transport aircraft.

Moreover, the report shows that the US Defense Department allocated $531.5 million (32%) of the AAF's FY 2019 funds for equipment and transportation costs.
Posted by: trailing wife || 11/11/2019 00:00 || Comments || Link || E-Mail|| [253 views] Top|| File under:
Arabia
Houthi rebels will have role in Yemen's future, says UAE
[Al Jazeera] Yemen


...an area of the Arabian Peninsula sometimes mistaken for a country. It is populated by more antagonistic tribes and factions than you can keep track of...


's rebels will have a role in their country's future, a minister of the United Arab Emirates (UAE) has said, voicing optimism that a recent peace deal between the government and southern separatists could lead to a wider political solution to years of war.

The comments on Sunday were the latest conciliatory move in the long-running Yemen conflict after the Iran-aligned Iran's Houthi sock puppets

...a Zaidi Shia insurgent group operating in Yemen. They have also been referred to as the Believing Youth. Hussein Badreddin al-Houthi is said to be the spiritual leader of the group and most of the military leaders are his relatives. The legitimate Yemeni government has accused the them of having ties to the Iranian government. Honest they did. The group has managed to gain control over all of Saada Governorate and parts of Amran, Al Jawf and Hajjah Governorates. Its slogan is God is Great, Death to America™, Death to Israel, a curse on the Jews They like shooting off... ummm... missiles that they would have us believe they make at home in their basements. On the plus side, they did murder Ali Abdullah Saleh, which was the only way the country was ever going to be rid of him...
s offered in September to halt attacks on Soddy Arabia


...a kingdom taking up the bulk of the Arabian peninsula. Its primary economic activity involves exporting oil and soaking Islamic rubes on the annual hajj pilgrimage. The country supports a large number of princes in whatcha might call princely splendor. When the oil runs out the rest of the world is going to kick sand in the Soddy national face...


Anwar Gargash, minister of state for foreign affairs in the UAE - a key member in the Saudi-led coalition backing Yemen's government against the Houthi rebels - urged all sides to maintain momentum for a political resolution.

"Such an agreement must take account of the legitimate aspirations of all parts of Yemeni society. That includes the Houthis," Gargash said at a political conference in Abu Dhabi.

"Houthi militias have wreaked havoc on the country, but they are a part of Yemeni society and they will have a role in its future."

'BUILD ON MOMENTUM'
The Houthi rebels have been fighting the internationally recognised government and its allies for more than four years in a war that has pushed the country to the brink of famine.

But Gargash said he was hopeful a power-sharing deal between the government and the secessionist Southern Transitional Council, signed in Riyadh last week, could pave the way for a wider peace deal.

"The agreement solidifies the anti-Houthi coalition and provides a more robust basis for reaching a political solution," he said. "Now we need to build on the momentum this has given us."

The so-called Riyadh agreement would see Yemen's government return to Aden - the interim capital seized by separatists in August - and place the forces from both sides under the authority of the defence and interior ministries.

Gargash's comments came after a rally organised by the Houthis to mark the birthday of the Prophet Muhammad on Saturday drew hundreds of thousands in the Yemeni capital Sanaa, a much larger crowd than last year.


Posted by: Fred || 11/11/2019 00:00 || Comments || Link || E-Mail|| [210 views] Top|| File under: Houthis
Europe
Far Right 'Vox' Set To Become One Of Spain's Largest Political Parties, Came in 3rd After Scant Socialist Win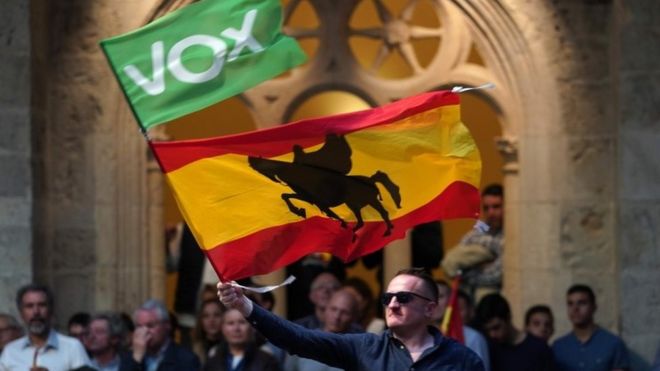 [SBSNews] Far-right party Vox has made big gains in Spain's latest election, and is predicted to win 53 seats in a hung parliament.

Far-right Vox is projected to become the third-largest party in Spain's parliament after Sunday's national election.

It made its debut in parliament as recently as April, marking the first time a far-right party won more than one seat since the country's return to democracy in the 1970s.

An opinion poll published shortly after mainland voting ended pegged Vox at 56-59 seats in the 350-seat house, up from 24 in the previous election in April. The actual results could still be different as such early surveys are not always accurate, though most other recent ones had projected a similar outcome.

Founded in 2013 by former members of the mainstream conservative People's Party, Vox is anti-muslim, nationalist, anti-feminist, Eurosceptical, socially conservative, economically liberal, and staunchly pro-Spanish unity.


The global Left is... appalled ! The BBC ran a docu on them, their 'vile politics' and the 'defective mass psychology' behind their appeal. The name 'Trump' was used a lot.


It got its first foothold in office last December, winning 12 parliamentary seats in a regional election in Andalusia.

Vox is aligned with the broader populist movement that has also risen swiftly in other European countries, notably Italy, Austria, Germany, Denmark and France.

Economically, Vox's manifesto has been ultra-liberal: halving the highest income tax rate to 15 per cent, reducing corporate tax, and abolishing wealth and inheritance taxes. It also proposes to partially privatize Spain's pension system.
More at SBS News.
Vox Party, which evokes images of medieval war between Christians and invading Moslems, more than doubles seats and ensures stalemate between left and right continues.

After a fourth national ballot in as many years and the second in less than seven months, the left-wing Socialists held on as the leading power in the national parliament. With 99.9% of the votes counted, the Socialists captured 120 seats, down three seats from the last election in April and still far from the absolute majority of 176 needed to form a government alone.

The far-right party led by 43-year-old Santiago Abascal, who speaks of "reconquering" Spain in terms that echo the medieval wars between Christian and Moorish forces, rocketed from 24 to 52 seats. That will make Vox the third leading party in the Congress of Deputies, giving it much more leverage in forming a government and crafting legislation.

With Sunday's outcome, the mainstream conservative Popular Party rebounded from its previous debacle in the April vote to 88 seats from 66, a historic low. The far-left United We Can, which had rejected an offer to help the Socialists form a left-wing government over the summer, lost some ground to get 35 seats.

The night's undisputed loser was the center-right Citizens party, which collapsed to 10 seats from 57 in April after its leader Albert Rivera refused to help the Socialists form a government and tried to copy some of Vox's hard-line positions.

Sánchez's chances of staying in power still hinges on ultimately winning over the United We Can party and several regional parties, a complicated maneuver that he has failed to pull off in recent months.

The Socialists took a hit in the country's Senate, losing their absolute majority of 133 seats in the upper parliamentary chamber amid the significant conservative inroads.

The three Catalan separatist parties won a combined 23 seats on Sunday.

Posted by: Dron66046 || 11/11/2019 00:00 || Comments || Link || E-Mail|| [239 views] Top|| File under: Moslem Colonists
Home Front: WoT
'I want to have my own car': American-born ISIS bride begs to return to US
[WashingtonExaminer] A woman born in New Jersey, who fled the United States to join the Islamic State

...formerly ISIS
...embracing their inner Islamic Brute...
or ISIL, depending on your preference. Before that they were al-Qaeda in Iraq, as shaped by Abu Musab Zarqawi. They're really very devout, committing every atrocity they can find in the Koran and inventing a few more. They fling Allah around with every other sentence, but to hear western pols talk they're not really Moslems....
five years ago, said she "regrets every single thing" and has fought to return home despite the loss of her citizenship.

Hoda Muthana, 25, left her family home in Alabama in 2014 after making contact with ISIS fighters through social media. Muthana had gained a large following on Twitter and expressed anti-Western ideology consistent with that of ISIS, or

ISIS

, including encouraging jihadis to "go on drivebys, and spill all of their blood."

Muthana was born to a Yemen


...an area of the Arabian Peninsula sometimes mistaken for a country. It is populated by more antagonistic tribes and factions than you can keep track of...


i diplomat


...that's proud dad Ahmed Ali Muthana, who in February sued the U.S. government to make them bring his little girl home. He is represented by the Constitutional Law Center for Muslims in America (CLCMA), funded by the Muslim Legal Fund of America...

in 1994 and was issued an American passport despite some confusion about when her father's diplomatic post officially came to end. The U.S. government argues that Muthana's status as a U.S. citizen was issued in error because her father was in the country as a foreign official at the time of her birth.


This was one of the bright ideas of President Obama's clever boys and girls back at the beginning of 2016. They even sent her parents a letter informing them that their daughter had never been a citizen. President Trump is just executing his predecessor's decision.

Muthana's lawyers and family claim that she was born after her father's post ended when the family had been issued refugee status due to unrest in Yemen.

Upon arriving in Syria to join ISIS in 2014, Muthana burned her U.S. passport and declared herself a part of the caliphate. She married an Australian-born ISIS fighter who was killed in 2015 and subsequently married a Tunisian fighter who was also killed, but with whom she had a son. Muthana married one more fighter, whom she divorced.

As the ISIS enclave in Syria collapsed, Muthana surrendered to coalition forces in January 2019 and asked to come back to the U.S. in February. Secretary of State Mike Pompeo, through the instruction of President Trump, publicly denied reentry to Muthana and her two-year-old son. "Ms. Hoda Muthana is not a U.S. citizen and will not be admitted into the United States," Pompeo said. "She's a terrorist."

Muthana claimed she no longer espoused the views and values she readily shared when she fled the U.S. for Syria in 2014. Having said she "regrets every single thing," Muthana said to NBC News that the refugee camps she was forced to live in after her surrender felt increasingly unsafe for her and her young child. She also claimed it was "hard to get up in the morning."

Muthana said that, if allowed to return to the U.S., she would be open to facing justice for her actions. "They can watch over me 24/7, I'd be OK with that," she said. "I want my son to be around my family, I want to go to school, I want to have a job and I want to have my own car."
Posted by: trailing wife || 11/11/2019 00:00 || Comments || Link || E-Mail|| [387 views] Top|| File under: Islamic State
Iraq
Amnesty calls on Iraq to end 'bloodbath' amid anti-government protests
[THEBAGHDADPOST] Amnesia Amnesty International on Sunday called on the Iraqi government to "rein in security forces" after reports of more deaths amid ongoing nationwide protests in Baghdad and other provinces.

Iraqi media quoted medical sources on Sunday who said seven people were killed and nearly 100 injured when demonstrators tried to reach the fortified Green Zone in the capital of Baghdad.

According to Iraq's High Commission for Human Rights, since they began in early October, widespread protests in Iraq have resulted in the deaths of at least 300, while some 12,000 have been injured.

Heba Morayef, Amnesia Amnesty International's Middle East and North Africa Director, called on Iraqi authorities to "immediately order an end" to the use of "excessive force" against demonstrators.

"There have now been at least 264 protester deaths across the country in little over a month," Morayef added. "This is turning into nothing short of a bloodbath‐all government promises of reforms or investigations ring hollow while security forces continue to shoot and kill protesters."

The Amnesty director urged the Iraqi government to protect its citizens, who are exercising their right "to gather and express their views."

"This bloodbath must stop now, and those responsible for it must be brought to justice."

The protests over the past month reflect widespread dissatisfaction with the economy, including high levels of unemployment, the dismal state of public services, and widespread government corruption.

Demonstrators are calling for radical change in Iraq's political system, which they say fails to address their needs, but, rather, serves the interests of a small governing elite.
Posted by: Fred || 11/11/2019 00:00 || Comments || Link || E-Mail|| [159 views] Top|| File under: Govt of Iraq
Syria-Lebanon-Iran
Iran begins building 2nd nuclear power reactor at Bushehr
[AlAhram] Iran's state TV is reporting that construction has begun on a second nuclear power reactor at its Bushehr plant amid heightened tensions over Tehran's collapsing nuclear deal with world powers.

Authorities began pouring concrete for the base of the reactor on Sunday in the presence of journalists in Bushehr, some 700 kilometers (440 miles) south from Iran's capital, Tehran.

Bushehr relies on 4.5% enriched uranium, which Iran

...a theocratic Shiite state divided among the Medes, the Persians, and the (Arab) Elamites. Formerly a fairly civilized nation ruled by a Shah, it became a victim of Islamic revolution in 1979. The nation is today noted for spontaneously taking over other countries' embassies, maintaining whorehouses run by clergymen, involvement in international drug trafficking, and financing sock puppet militias to extend the regime's influence. The word Iran is a cognate form of Aryan, the abbreviation IRGC is a cognate form of Stürmabteilung (or SA), the term Supreme Guide is a cognate form of either Shah or Führer or maybe both, and they hate Jews Zionists Jews. Their economy is based on the production of oil and vitriol...
is producing in violation of its 2015 nuclear deal. That violation and others come after President Donald Trump
...the Nailer of NAFTA...
unilaterally withdrew America from the accord over a year ago.

Bushehr's first reactor came online in 2011 with the help of Russia. This new reactor similarly will be built with Russian help.
Posted by: trailing wife || 11/11/2019 01:24 || Comments || Link || E-Mail|| [221 views] Top|| File under: Govt of Iran
Top US military official says 500-ish troops to remain in Syria
[AlAhram] US troop levels in northern Syria will probably stabilize around 500, a top American military leader said Sunday, weeks after President Donald Trump
...The man who was so stupid he beat fourteen professional politicians, a former tech CEO, and a brain surgeon for the Republican nomination in 2016, then beat The Smartest Woman in the World in the general election...
had announced a complete withdrawal.

"There will be less than 1,000, for sure," General Mark Milley, chairman of the Joint Chiefs of Staff, said on ABC's "This Week." "Probably in the 500ish frame, maybe six."

Trump's abrupt announcement last month that he had ordered a full troop withdrawal drew angry rebukes at home and abroad, with critics saying it could allow a resurgence of the Islamic State

ISIS
...embracing their inner Islamic Brute...
...formerly ISIS or ISIL, depending on your preference. Before that they were al-Qaeda in Iraq, as shaped by Abu Musab Zarqawi. They're really very devout, committing every atrocity they can find in the Koran and inventing a few more. They fling Allah around with every other sentence, but to hear western pols talk they're not really Moslems....
group while leaving US-allied Kurdish fighters in Syria vulnerable to a Ottoman Turkish invasion.

The US president later relented in part, saying he would leave some troops in the region to protect valuable oil fields.


...in order to deliver the income to the SDF, since which people have stopped claiming he deserted the Kurds.

Milley, who has commanded troops in Afghanistan and Iraq, told ABC that it was important for US troops to remain in Syria so long as IS has a presence there.

"There are still ISIS fighters in the region," he said, using an alternate term for IS. "Unless pressure is maintained, unless attention is maintained on that group, there's a very real possibility there could be a re-emergence of ISIS."

Asked about the killing Oct. 26 of IS leader Abu Bakr al-Baghdadi by a US special forces unit, Milley said it would have a "significant disruptive effect on the organization."


...if not the killing of the man himself and nearby Numbers 2 and 3, then certainly by the capture of one or more prisoners and all those files and electronic devices revealing personnel and plans. I very much look forward to future reports of raids resulting from the information gleaned therefrom... and the interesting conversations President Trump will, or will not, be having with President Erdogan Recep Tayip, wannabe sultan of the neo-Ottoman caliphate.

He said the US had "a considerable amount of information on his successor," Abu Ibrahim al-Hashimi al-Quraishi.

"Where opportunities arise," Milley said, "we'll go after him."

Trump has said he wants to wind down US military entanglements abroad where possible, but Milley predicted that American troops, already in Afghanistan for 18 years, would remain there "for several more years."

He was also asked whether he knew Alexander Vindman, the army lieutenant colonel and White House Ukraine expert who has testified about his concerns over a controversial phone call between Trump and Ukrainian President Volodymyr Zelensky.

Milley declined to comment "on a witness to an active investigation" -- the House of Representatives' impeachment inquiry into Trump.
Posted by: trailing wife || 11/11/2019 00:51 || Comments || Link || E-Mail|| [179 views] Top|| File under:
Assad calls President Erdogan an 'Islamist fanatic' as war rages in northeast Syria
[Rudaw] Syrian Hereditary President-for-Life Bashir Pencilneck al-Assad


Lord of the Baath...


called Ottoman Turkish President His Enormity, Sultan Recep Tayyip Erdogan the First


...Turkey's version of Mohammed Morsi but they voted him back in so they deserve him. It's a sin, a shame, and a felony to insult the president of Turkey. In Anatolia did Recep Bey a stately Presidential Palace decree, that has 1100 rooms. That's 968 more than in the White House, 400 more than in Versailles, and 325 more than Buckingham Palace, so you know who's really more important...


'an Islamist fanatic' in an interview to be released on Monday.
Continued on Page 49
Posted by: trailing wife || 11/11/2019 00:00 || Comments || Link || E-Mail|| [183 views] Top|| File under: Sublime Porte
Who's in the News
39
[untagged]
6
Islamic State
5
Sublime Porte
4
Govt of Iraq
2
Govt of Iran
2
Taliban
1
Arab Spring
1
Govt of Pakistan
1
Commies
1
Human Trafficking
1
al-Qaeda
1
Moslem Colonists
1
al-Nusra
1
Houthis
1
Govt of Iran Proxies
Bookmark
E-Mail Me
The Classics
The O Club
Rantburg Store
The Bloids
The Never-ending Story
Thugburg
Gulf War I
The Way We Were
Bio
Merry-Go-Blog
Hair Through the Ages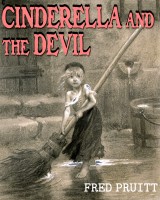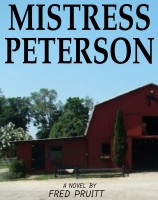 On Sale now!


A multi-volume chronology and reference guide set detailing three years of the Mexican Drug War between 2010 and 2012.

Rantburg.com and borderlandbeat.com correspondent and author Chris Covert presents his first non-fiction work detailing the drug and gang related violence in Mexico.

Chris gives us Mexican press dispatches of drug and gang war violence over three years, presented in a multi volume set intended to chronicle the death, violence and mayhem which has dominated Mexico for six years.
Click here for more information


Meet the Mods
In no particular order...


Steve White
Seafarious
Pappy
lotp
Scooter McGruder
john frum
tu3031
badanov
sherry
ryuge
GolfBravoUSMC
Bright Pebbles
trailing wife
Gloria
Fred
Besoeker
Glenmore
Frank G
3dc
Skidmark
Alaska Paul



Better than the average link...



Rantburg was assembled from recycled algorithms in the United States of America. No trees were destroyed in the production of this weblog. We did hurt some, though. Sorry.
35.172.233.215