-Short Attention Span Theater-
The Highly-Anticipated 2017 Fake News Awards
[GOP.com] 2017 was a year of unrelenting bias, unfair news coverage, and even downright fake news. Studies have shown that over 90% of the media's coverage of President Trump is negative.

Below are the winners of the 2017 Fake News Awards.
Sorry, gotta click the link.

Try not to crash the GOP website again when you do. :-)
Posted by: gorb || 01/18/2018 01:13 || Comments || Link || E-Mail|| [6462 views] Top|| File under:
Economy
Economy Mostly Due to Obama, Say Experts
Posted under opinion, even though it is reported as 'news'.


[Ay-Pee] President Donald Trump relentlessly congratulates himself for the healthy state of the U.S. economy, with its steady growth, low unemployment, busier factories and confident consumers. But in the year since Trump's inauguration, most analysts tend to agree on this: The economy remains essentially the same sturdy one he inherited from Barack Obama.

Why, even 'polls' of the 'public' agree!


The U.S. public appears to have a similar view, according to a Quinnipiac University poll last week. It found that two-thirds of American voters say the economy is "excellent" or "good," the highest since the poll started asking about the economy in 2001. Yet 49 percent of respondents credited Obama for the economy's health, compared with 40 percent who credited Trump.

Other factors besides tax cuts and deregulation are playing a role. For the first time since the most recent major recession ended in 2009, the global economy is enjoying widespread growth. That kind of broad expansion helps boost spending on U.S. exports of factory goods, a boon to manufacturers, and also lifts the stock market because it increases profits for U.S. multinational corporations.


And most of the jobs that have been added this year were outside the Midwestern "Rust Belt" states that swung for Trump in the election. Instead, some of the states with the biggest gains are in the South, Southwest and Northwest. Meanwhile, Michigan's manufacturing employment was flat last year, while factory jobs rose just 0.5 percent in Ohio. Pennsylvania lost manufacturing jobs.


However....


"2017 was largely an Obama economy," Mark Zandi, chief economist at Moody's Analytics, said. "But going forward it will definitely be a Trump economy."
Posted by: Bobby || 01/18/2018 10:21 || Comments || Link || E-Mail|| [6493 views] Top|| File under:
Home Front: Politix
Breaking: Donald Trump Is Not Pregnant
[American Thinker] That was about the only question not asked by a Washington press corps wondering if a billionaire developer who beat 16 primary opponents, including senators and governors, for the Republican nomination, then beat the smartest woman in the world for the presidency, and is the author of an economic renaissance is drinking too much Diet Coke. If these are the results, then buy a case each for the 535 in the House and the Senate.

Despite a detailed physical report presented at Tuesday's White House press conference by presidential physician Rear Admiral Dr. Ronny Jackson saying President Trump is in excellent health, the Jim Acostas of the world want to know if President Trump wears dentures and what his BMI (body mass index) is. In fact, we how have reports of a "girther" movement arising. Maybe we can retire the national debt with a "guess his weight" contest. William Howard Taft, call your office.

Judging from the repetitive questions about President Trump's mental state, whether he has Alzheimer's or early onset dementia, one would suggest that it is the press that has OCD (obsessive compulsive disorder). At least they didn't ask him if he knows where Captain Queeg's missing strawberries were.

Dr. Jackson was asked about so-called mental health professionals around the country diagnosing President Trump as mentally unfit, suggesting that the president, who is fond of McDonald's, is one fry short of a Happy Meal. Dr. Jackson was too charitable to suggest what response these distant doctors should receive. They should have their licenses pulled for unprofessional conduct.

There is something called the "Goldwater rule," named after the 1964 Fact magazine article in which psychiatrists were polled about Senator Barry Goldwater's fitness to be president. The American Psychiatric Association considers it unethical to make and express psychological evaluations from afar and without the evaluee's consent. Most people just call it by its other name: character assassination.
Posted by: Besoeker || 01/18/2018 15:08 || Comments || Link || E-Mail|| [6497 views] Top|| File under:
Jeff Flake Anti-Trump Senate Speech Has An Audience Of Two Senators
Moved to Opinion



[PacificPundit] Jeff SnowFLAKE is really bitter. Trump exposed him for what he really is and has an approval under 20% in the state of Arizona. With numbers like these, Jeff Flake knows he couldn't get elected senator again, let alone win a primary race. So he is "retiring" after one term. Today, he gave a speech before Trump's "fake news media awards" comparing Trump to Stalin for daring to bash the media. It's pretty obvious that Jeff SnowFLAKE is trying his best to land a gig at CNN or MSNBC after he's kicked out of the Senate.

With all the Trump hating senators, including many phony Republicans, you would think SnowFLAKE would have had a packed house on the senate floor for his Trump bashing speech. Turns out, only two senators showed up for Flake's bloviating. One of them was Dicky Durbin. The other was Minnesota communist Amy Klobuchar.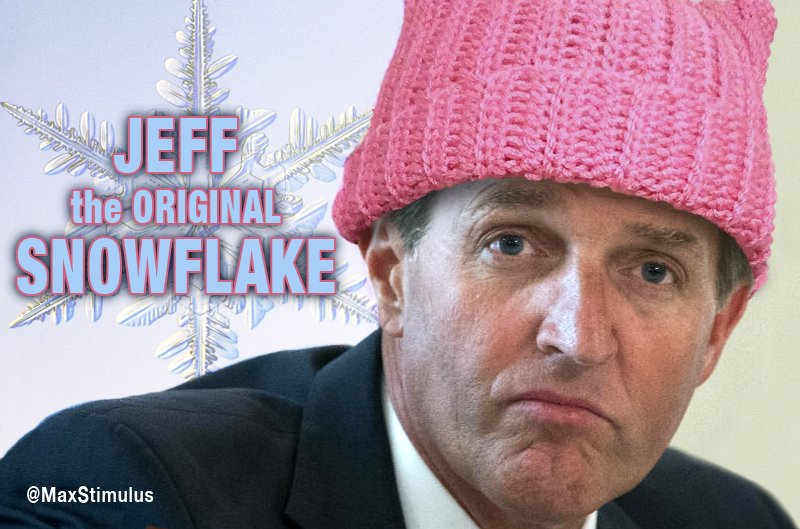 Snowflake Jeff couldn't even get Chucky Schumer, Bernie Sanders, Elizabeth Warren, Cory T-Bone Booker or Kamala Harris to show up. Those are the nuttiest of the nutty.

The speech was carried live by CNN and C-SPAN.

Flake's highly anticipated speech hit Trump on his treatment of the press and compared the president to former Soviet dictator Josef Stalin.

"2018 must be the year in which the truth takes a stand against power that would weaken it," Flake said.

"Together we have it within us to turn back these attacks, to write these wrongs, repair this damage, restore reverence for our institutions and prevent moral vandalism," he continued.
Little known fact: Jeffie was born in Snowflake, AZ.
Posted by: Vast Right Wing Conspiracy || 01/18/2018 00:00 || Comments || Link || E-Mail|| [6460 views] Top|| File under:
Iraq
What next for Iraq's Abadi after his 'victory' alliance collapses?
[ENGLISH.ALARABIYA.NET] The "Victory Alliance", which brought together Iraqi Prime Minister Haider al-Abadi and the Popular Mobilization Unit (PMU) militias did not last for more than 48 hours. The "victorious" coalition was on the verge of disintegration, putting Abadi in a difficult position.

Now, Abadi, a member of the Islamic Dawa Party, is trying to find new Shiite allies.

Abadi's Sunni allies do not form a popular base in their liberated areas that can help him get enough votes to support his coalition.

The alliances and coalitions between the Secretary General of the Islamic Dawa Party Nouri al-Maliki and the Shura Council in the party triggered different reactions. The council objected to registering the party's name in the electoral commission under Maliki's name, and informed him that his post was "honorary". As such, the party decided to withdraw its participation in the elections.

On the same day that the party decided to withdraw its participation in the elections, Abadi declared the formation of a "victory coalition" that fell over and needed new alliances.

'Falling apart'
There is no legal or constitutional provision to determine the date for forming new alliances before the elections which is scheduled to be held on May 15th of this year, so it seems that the Electoral Commission will accept the new alliances that will be announced by the political blocs.

Contrary to what is expected, the popular mobilization factions entered into an alliance with Abadi and merged under the Victory Alliance. These factions are Badr, Asaib, Ahl al-Haq, the Brigades of Imam Ali, as well as the Ataa movement.

The Victory Alliance gathered many important names, and this was an indication that it will not last long and that the victorious military alliance will keep their main coalition (Fatah), headed by Hadi Amiri including the factions of the popular mobilization forces.

It seems that the withdrawal of the PMU militias from the Abadi coalition has put the latter in a corner that he is trying to escape from; nevertheless, there are those who believe that this entire scheme was planned by the commander of the Quds Force in the Iranian Revolutionary Guard Qasem Soleimani.

The Iranian general arrived in the Iraqi capital Baghdad without providing much information about the dates, the locations and the reasons for his visit. The Intel indicates that "Soleimani supervised the alliances of the Shiite political blocs, especially those close to Iran."

After the PMU militias joined the Victory Alliance led by Abadi, Soleimani headed to Baghdad in a secret visit, as it is usually the case. The sources said, "Soleimani planned to withdraw the factions close to Iran in a move to overthrow Abadi."

Seeking other alliances
Abadi is now looking for an alliance with the leader of the Sadrist movement
Moqtada Tater al-Sadr


... the Iranian catspaw holy man who was 22 years old in 2003 and was nearing 40 in 2010. He spends most of his time in Iran, safely out of the line of fire, where he's learning to be an ayatollah...


, but the first delegation, which arrived in the city of Hananah in the province of Najaf where Sadr's house is located, was unable to meet him. It is believed that Sadr refused to meet with the members of the delegation.

As soon as Abadi announced the new alliance with the popular mobilization forces, many social media users expressed their anger, even those who supported him in his previous steps, when he announced his reformist plans. Iraqi social media users criticized him, and considered him like his predecessor Maliki.

Critics of Abadi, especially those who have demonstrated against corruption and cultural and media elites, criticized him for forming an alliance with suspected "corruption" figures while the prime minister promised to fight "the corrupt."

Abadi's recent steps appear to be a shock to those who expected to get rid of the "quota" policies that have drowned and ruined the Iraqi state system.

Analysts say that "the disintegration of the recent alliances proved that the Iranians do not want Abadi, because they consider him close to the United States, hence not an ally to Iran."


Posted by: Fred || 01/18/2018 00:00 || Comments || Link || E-Mail|| [6464 views] Top|| File under: Govt of Iraq
Israel-Palestine-Jordan
DEBKA: Abbas' ultimatum to Trump: Choose between a Palestinian Jerusalem or war
[DEBKA] Palestinian Mahmoud Abbas kicked back hard after grasping he was confronted with an orderly, Arab-backed US peace plan that left his strategy in ruins.

Abbas now sees he is cornered by his nemesis: Trump's move to recognize Jerusalem as Israel's capital, was not just a one-off whim, but a component of the "deal of the century," which the US president and his advisers had crafted for months together with Egyptian President Abdel-Fatteh El-Sisi, Saudi Crown Prince Muhammed bin Salman and the UAE ruler Sheikh Muhammed Bin Ziyad.

The Palestinian leader's first predicament was how to explain to the Palestinian and Arab public what happened to his master strategy of the past 25 years, for using world opinion to force a pro-Palestinian peace solution down Israel's throat. Not too long ago, Abbas boasted he was about to pull it off. Now it is crashing before his eyes. It is not enough for him to yell that the "deal of the century" is the "slap of the century."

Here and there, he may find international pro-Palestinian stalwarts, but the doors are slamming shut as funds for UN bodies and NGOs dry up. Even the Europeans, who dislike Trump and sympathize with the Palestinians, are beginning to think twice about sticking to a blunt line against the US and Israel. They are reluctant to buck the two allies' partners, the oil-rich Saudi and Emirate rulers, a luxury they can ill afford in these times of profound economic decline.

Much of the criticism of the US-Arab peace plan is prompted by a misapprehension. The plan is based strongly on a two-state solution that offers the Palestinians their own state and negates binational Israeli-Palestinian statehood. But the contours are different from any former peace proposal. Gone for good are the pre-1967 war lines which were Abbas' sine qua non. According to the fragments leaked about the new proposal, which is still on the work bench, this Palestinian state would rise on territory currently governed by the Palestinian Authority in Judea and Samaria. Its backbone would be formed by the chain of Palestinian towns running from Nablus in the north through Ramallah and Bethlehem and up to Hebron in the south. They would link up with the Gaza Strip and acquire parts of northern Sinai, presumably Egyptian Rafah and El Arish.

According to this plan, the governmental and population of the new Palestinian state would be oriented mainly in the south, so that Jerusalem would not be relevant as its capital. It would still have Ramallah and possibly Abu Dis, outside Jerusalem, where government and parliamentary compounds were installed long ago, after one of several stillborn peace initiatives.

This plan for Palestinian statehood bears little resemblance to the goal of the 50-year old Palestinian struggle. The Palestinian national movement has consistently aspired to a state that would swallow Israel and extinguish the Zionist vision. However, the contemporary Palestinian state as envisaged in the new plan would be dependent for its strength and survival on Egypt, Saudi Arabia and the UAE, all of which maintain good security and economic ties with Israel.

For Mahmoud Abbas this prospect is anathema. He is so beside himself that on Sunday, he cursed the house of US President Donald Trump before the PLO central committee. But, then on Monday, Jan. 16, Trump whipped out his ultimate weapon and slashed aid to the UN Works and Relief Agency for Palestinian refugees, from $165m to $60m.

For many years, UNWRA has been a powerful political sponsor of any Palestinian group willing to join the "struggle" against Israel. Its personnel were flush with the funds paid in as dues by UN members, unlike the often cash-strapped Palestinian Authority in Ramallah. Trump therefore decided that the key to getting the US-Arab peace plan on its feet would be to cut off the flow of cash to its opponents. It is a little-known fact that he was joined in this endeavor by the Saudis, the Emiratis and even Qatar, all of whom started some weeks ago to staunch aid funds to the Palestinian Authority. The Palestinian Authority and its chairman Mahmoud Abbas therefore find they are being squeezed into an US-Arab blockade, which leaves Abbas with three options:


To realize his back is to the wall and he has no option other than to accept the "deal of the century."


Face being ousted by the rest of the Palestinian leadership and replaced with a successor who is amenable to reaching an understanding with the Trump administration, Cairo, Riyadh and Abu Dhabi.


Regress to Yasser Arafat's doctrine of armed struggle – not just against Israel this time but against US targets as well. Abbas indicated that was on the warpath when he challenged President Trump in a ferocious speech he delivered in Cairo Wednesday, Jan 17. He shouted, "Jerusalem would be a gate for peace only when it was the capital of Palestine. But it is also a gate for war, insecurity and instability, if not. Trump must choose."

His barefaced ultimatum to the US president was accompanied by a rumor his cronies began to circulate, charging that the Trump administration was plotting to forcibly depose Abbas as PA chairman. The Palestinian leader finds himself tied down by two handicaps: shortage of funds for buying supporters and his advanced age. At 82, he may choose a fourth option, to retire voluntarily and make way for a younger leader.
Posted by: 3dc || 01/18/2018 00:00 || Comments || Link || E-Mail|| [6465 views] Top|| File under: PLO
The New York Times Won't Let Mahmoud Abbas Have His YOLO Moment
[FreeBeacon] You're the president of the Palestinian Authority, a darling of the western left and western media, but largely powerless in your own back yard. You're 82 years old, in the 12th year of a four-year term, and many people are no longer taking you very seriously because your great patron and promoter, Barack Obama, is no longer President of the United States.


Praise be


You know it's over, everyone knows it's over. Why bother keeping up appearances? Not that you tried very hard in the past. Back then, you made sly references to your belief, for example, that Jewish history in Israel and Jerusalem are fabrications of Zionism. But now you feel liberated to say what you really believe.


He'd make a good Black Forest smoker. I can just see smoke rolling from his ears.


So you call a meeting of the Palestine Liberation Organization. You have a list of things to get off your chest. You have 400 years of alternative history to expound. The media is there to report everything you say. You held it all in for a decade, and you had to, because Obama couldn't stop talking about how you're a great man of peace and how much he loathes the Israelis. You were being a friend by not pointing out that the Jews were poisoning the drinking water in Palestine and getting young Palestinians hooked on drugs.
Continued on Page 49
Posted by: Frank G || 01/18/2018 00:00 || Comments || Link || E-Mail|| [6465 views] Top|| File under: Fatah
Home Front: Culture Wars
Portland's First Somali Police Officer Arrested at MA Concert
[MaineFirstMedia] What a difference a year makes!

This time last year, open-border Leftists were celebrating the swearing in of the first Somali refugee police officer.

In fact, Fake News outlet, the Portland Press Herald, championed the moment as "history-making!"

Fast forward one year and that same "history-making" Somali police officer isn't arresting criminals ‐ but instead, being arrested.

Zahar Munye Abu was arrested last Saturday in Worcester, MA.

The arrest took place at a Ja Rule and Ashanti concert at the Palladium Nightclub in Worcester.


The refugee police officer, Abu, was charged with five misdemeanors including assault, battery, trespassing, disturbing the peace and disorderly conduct.

But Abu's rap sheet doesn't end there.

The cop is also charged with resisting arrest.

As a police officer, she should know and understand the dangers to all parties involved when a suspect resists arrest.


Continues.
Posted by: Vast Right Wing Conspiracy || 01/18/2018 00:00 || Comments || Link || E-Mail|| [6461 views] Top|| File under:
Who's in the News
29
[untagged]
3
Govt of Syria
2
Govt of Saudi Arabia
2
Boko Haram (ISIS)
2
Commies
2
Islamic State
2
Moslem Colonists
1
Govt of Iran
1
Govt of Iraq
1
Govt of Pakistain Proxies
1
Govt of Pakistan
1
Govt of Qatar (MB)
1
al-Shabaab (AQ)
1
Govt of Sudan
1
al-Nusra
1
Hamas
1
Hezbollah
1
Houthis
1
Sublime Porte
1
Jaish al-Islam (MB)
1
Taliban
1
Antifa
1
Palestinian Authority
1
PLO
1
Fatah
Bookmark
E-Mail Me
The Classics
The O Club
Rantburg Store
The Bloids
The Never-ending Story
Thugburg
Gulf War I
The Way We Were
Bio
Merry-Go-Blog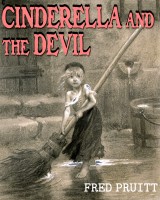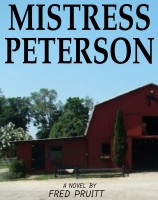 On Sale now!


A multi-volume chronology and reference guide set detailing three years of the Mexican Drug War between 2010 and 2012.

Rantburg.com and borderlandbeat.com correspondent and author Chris Covert presents his first non-fiction work detailing the drug and gang related violence in Mexico.

Chris gives us Mexican press dispatches of drug and gang war violence over three years, presented in a multi volume set intended to chronicle the death, violence and mayhem which has dominated Mexico for six years.
Click here for more information


Meet the Mods
In no particular order...


Steve White
Seafarious
Pappy
lotp
Scooter McGruder
john frum
tu3031
badanov
sherry
ryuge
GolfBravoUSMC
Bright Pebbles
trailing wife
Gloria
Fred
Besoeker
Glenmore
Frank G
3dc
Skidmark
Alaska Paul



Better than the average link...



Rantburg was assembled from recycled algorithms in the United States of America. No trees were destroyed in the production of this weblog. We did hurt some, though. Sorry.
3.236.52.68

Help keep the Burg running! Paypal: