Yes Director Comey, about those pesky Clinton Foundation emails
BLUF:

[The National Review] Speculation in the Hillary camp about what could be in future releases from WikiLeaks center around her association with the Clinton Foundation. Peter Schweizer, the author of Clinton Cash, told me: The activities of Hillary Clinton during her time as secretary of state intersect with the favor-seeking of the Clinton Foundation. It is strange that so few of her publicly released e-mails touch on the Clinton Foundation. Maybe the private ones do." The FBI recovered many of the deleted e-mails from Hillary's server, and those are part of its ongoing probe into the Clinton Foundation.


Posted by: Besoeker || 07/26/2016 09:29 || Comments || Link || E-Mail|| [264 views] Top|| File under:
IOC totally rigged, throws runner Yuliya Stepanova under bus
[Guardian] Yuliya Stepanova, the whistleblower pivotal to the discovery of deep-rooted state-sponsored doping in Russia, has hit out angrily at the International Olympic Committee in the wake of its decision to ban her from competing in Rio.

It comes after the IOC provoked outrage from anti-doping organisations and athletes on Sunday when it decided against a blanket ban on Russian athletes despite an independent report that uncovered a state-run conspiracy across the majority of Olympic sports over five years.

Stepanova, an 800m runner, and her husband Vitaly, a former anti-doping official in Russia, have been widely praised for their bravery in speaking out. They originally approached the World Anti-Doping Agency in 2010 but were told it had no investigative powers. Eventually they took their story to investigative journalist Hajo Seppelt, whose explosive 2014 documentary set in motion the chain of events that led to Richard McLaren's report into Russia's state-sponsored doping programme.

Stepanova, who has fled Russia and is living in hiding in north America, had been cleared to enter the Olympics as a neutral athlete by the International Association of Athletics Federations but on Sunday the IOC ruled that any Russian athlete with a doping past, including Stepanova, would not be allowed to compete in Rio. It instead invited Stepanova and her husband to attend the Games as spectators, an offer they declined.


Hiding in North America might be better than attending the games. And stay away from the sushi...
Posted by: Besoeker || 07/26/2016 02:27 || Comments || Link || E-Mail|| [217 views] Top|| File under:
-Land of the Free
Facebook Admits to Censoring WikiLeaks DNC Links, Doesn't Say Why
[PJ] Despite famously swearing that they took a long, hard look at themselves and found no hint of bias, Zuckerberg and Co. still have a hard time hiding their agenda:


The 'Why' is quite obvious.


To be fair, Facebook wasn't the only major social media platform that seemed to be trying to provide cover for the Democrats yesterday.

Facebook has at least quickly, albeit rather cryptically, owned up to it.

Its chief security officer, Alex Stamos, tweeted that whatever was blocking WikiLeaks had been "fixed." That was it. The Next Web's Nate Swanner remains unsatisfied:

But we don't know why Facebook took issue with the links. It's possible its algorithm incorrectly identified them as malicious, but it's another negative mark on the company's record nonetheless. WikiLeaks is a known entity, not some torrent dumping ground.


Obviously they were 'Making Our World More Open.'


Previously, Facebook was discovered to have removed a Live video of Philando Castille dying, and posts of the Bastille Day aftermath were scrubbed from the newswire. Its news bar has also come under fire for being biased.

Facebook can call the issues disparate, but they're not -- not to users. At some point, the ignorance and blind claims of 'damn that algorithm' have to end. If Facebook wants us to turn to it for news and treat it seriously, then it has to be much more open.

The WikiLeaks link issue has reportedly been fixed, which is great -- but also not really the point. The fact links to the archive was blocked at all suggests there's a very tight reign on what's allowed on Facebook across the board, and that's a problem.


'Tight reign on what's allowed' is it ?
Posted by: Besoeker || 07/26/2016 02:46 || Comments || Link || E-Mail|| [443 views] Top|| File under:
Africa Subsaharan
Zimbabwean government to pay armed forces two weeks late
[SOUTHAFRICATODAY.NET] The Zim-bob-wean government announced late on Thursday, that the armed forces' July salaries would be paid on Monday -- two weeks late.

Doctors and nurses would be paid on July 27, and teachers, the largest group of public servants on August 2.

Most public servants have been paid late for most of 2016, except for the armed forces who were paid on time, except for the last two months.

Late payment of salaries contributed to the mass work stay-away on July 6, as teachers and government medical staff were on strike to protest about not yet receiving their June salaries.


Posted by: Fred || 07/26/2016 11:31 || Comments || Link || E-Mail|| [317 views] Top|| File under:
Caribbean-Latin America
Bernie Ecclestone's mother-in-law 'kidnapped in Brazil'
Sounds like Bernie has a dilemma to sort through.


The mother-in-law of Formula One boss Bernie Ecclestone has been kidnapped for ransom in her home city of Sao Paulo, Brazilian media reported Tuesday.

Aparecida Schunck Flosi Palmeira, 67, was seized Friday night in Interlagos, the Sao Paulo neighborhood that hosts the Brazilian circuit of the F1 Grand Prix, TV Globo reported.

There was no confirmation from Brazilian officials or from Ecclestone's staff in London.

"We neither confirm nor deny this report," a spokesman for the regional security ministry told AFP. "That is our policy in cases of suspected kidnapping, to avoid putting the lives of potential victims in danger."

According to Globo, the kidnappers are already in contact with the victim's family.

The Veja weekly reported that they were demanding payment of a ransom in pounds sterling worth 120 million reais (36 million dollars).

Aparecida Palmeira is the mother of Ecclestone's 38-year-old Brazilian wife Fabiana Flosi, who met the 85-year-old billionaire while working for the Interlagos Grand Prix in 2009.

The couple married in Switzerland and live in London.
Posted by: gorb || 07/26/2016 13:11 || Comments || Link || E-Mail|| [399 views] Top|| File under:
New Zealand Athlete Claims He Was Kidnapped by Police in Rio
Another reason not to go.


A New Zealand athlete claims that he was kidnapped by police at gunpoint in Rio.

Jason Lee, a New Zealand national jiu-jitsu champion, said he was pulled over by two armed police officers, who told him they were doing a routine search for drugs and weapons.

"First he asked me to stretch my arms, then patted me down. He grabbed my genital area, which was quite a surprise," Lee told New Zealand website Stuff, where his girlfriend Laura McQuillan works.

Lee said police officers also searched his car. He was then notified that he could not drive in Brazil without carrying his passport, according to Lee.

Police said Lee would be arrested if he didn't pay 2000 Brazilian Reais (around $610), according to Stuff.

But he didn't have enough cash so the police forced him into one of the officer's cars, Lee explained.

"At this point I acknowledged to myself that I've completely backed myself into a corner," Lee told Stuff.

After Lee withdrew the cash and gave the police the money, he was released.

"You can't say anything to anyone about this, not a word," the police said, according to Lee, but he told Stuff that he reported it to the Tourist Police the same night.

Requests for comment to police were not immediately returned.
Posted by: gorb || 07/26/2016 11:50 || Comments || Link || E-Mail|| [174 views] Top|| File under:
China-Japan-Koreas
At least 15 dead, dozens injured in knife attack outside Tokyo
[FOXNEWS] At least 15 people were killed, and up to 45 injured when a knife-wielding man went on a rampage early Tuesday at a facility for the disabled in the Japanese city of Sagmihara, broadcaster NHK reported.

Police told NNK World they received a call from an employee of the facility, located west of Tokyo, just after 2:30 a.m. on Tuesday.

Police told NHK they incarcerated
Yez got nuttin' on me, coppers! Nuttin'!
a man in his 20s when he turned himself in at a

cop shoppe

shortly after 3 a.m. local time.

Police said the man told them that he was a former employee of the center.

No motive for the attack was immediately known.
Japanese newspaper Asahi Shimbun reported that the suspect told police: 'I want to get rid of the disabled from this world.'
Posted by: Fred || 07/26/2016 00:00 || Comments || Link || E-Mail|| [410 views] Top|| File under:
Government
FBI confirms investigating Hack into DNC computer network
On Monday, the FBI confirmed it was investigating a hack into the DNC, the first acknowledgment from the agency that they are probing the incident, which US officials suspect came from a Russian cyber attack.

"The FBI is investigating a cyber intrusion involving the DNC and are working to determine the nature and scope of the matter," the agency said in a statement. "A compromise of this nature is something we take very seriously, and the FBI will continue to investigate and hold accountable those who pose a threat in cyberspace."

Clinton campaign manager Robby Mook told CNN's Jake Tapper on "State of the Union" Sunday about that "changes to the Republican platform to make it more pro-Russian," which could provide some of the motive behind the hacks.

Trump's son, Donald Trump Jr., denied that his father's campaign had anything to do with encouraging Russians to hack the DNC.

James Trainor, assistant director for FBI's cyber division, told CNN in a recent interview that the bureau has been working with political organizations and think tanks to put more resources into the security of their computer networks. He wouldn't discuss the DNC or the role of Russia, but spoke generally about the increased number of such intrusions.

"There's been aggressive targeting of that sector, the various campaigns, think tanks in the Washington, DC area," Trainor said. "(The) targeting of any candidate or any party (that) has political intelligence. There's value in information there if you're a nation state actor, so (it) shouldn't be surprising."

The FBI and other US agencies involved haven't yet officially attributed the DNC attack to Russian government hackers. But evidence gathered by the FBI so far points to groups that are known to US counter-intelligence for carrying out intrusions for the Russian government, the officials briefed on the probe say. The release of the emails over the weekend, however, raised new questions among government and private sector security officials.
Posted by: Pappy || 07/26/2016 00:00 || Comments || Link || E-Mail|| [421 views] Top|| File under:
Racist DNC Email Flagrantly Makes Fun Of Black Woman's name
[Daily Caller] Democratic operatives made fun of a black woman's name in an email chain recently leaked by the website Wikileaks.

An email with Scott Comer, the finance chief of staff and LGBT finance director for the Democratic National Committee (DNC) and Zachary Allen with the firm TIPAH Consulting, makes fun of LaQueenia Gibson's name. Gibson is an executive assistant for the company Haddad Brands.

"LaQueenia is a NAME!" Allen wrote to Comer in May, 2016. "I'm sorry, boo. I hope you got a raise with this title."

Allen is a Democratic campaign consultant who has been paid thousands of dollars by the DNC. A Federal Election Commission (FEC) report for 2015 shows Allen was paid $10,500 for "Fundraising Consulting" in September, 2015. The email was reported earlier on Fox News host Sean Hannity's website.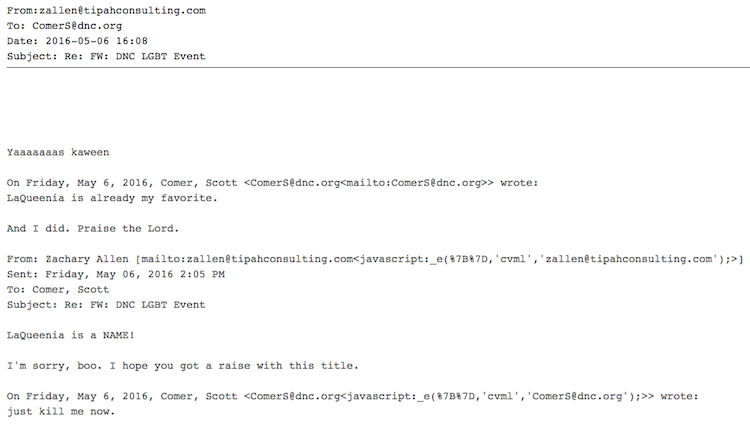 Posted by: Besoeker || 07/26/2016 02:59 || Comments || Link || E-Mail|| [514 views] Top|| File under:
India-Pakistan
Young girl dies after being raped in India
A 14-year-old girl from the Dalit, or lower-caste, community died in India after being allegedly raped by the same man twice, police said Tuesday.

The victim succumbed to her injuries in a hospital in north Delhi at the weekend, days after a similar case was reported from the neighbouring state of Haryana.

The teenager was kidnapped from her home in Burari area in May by her neighbour who had also attacked her in December, local police chief Satbir Singh said.

"The girl's parents have alleged that the 20-year-old man tortured her and forced her to drink corrosive chemicals which caused her death," Singh said. "We have re-arrested the man. We are awaiting the medical reports, following which he may face murder charges as well".
Posted by: SAT2014 || 07/26/2016 10:20 || Comments || Link || E-Mail|| [184 views] Top|| File under:
Mob lynches 'robber' who shot dead man
Actually, the guy was alive when he shot him, but not after. It's one of those South Asian idioms
[DAWN] KARACHI: An angry mob lynched a suspected robber after he

rubbed out

a man when he put up resistance to an attempt to rob him in New Bloody Karachi


...formerly the capital of Pakistain, now merely its most important port and financial center. It is among the largest cities in the world, with a population of 18 million, most of whom hate each other and many of whom are armed and dangerous...


early on Sunday morning, Bilal Colony police said.

They added that two suspected robbers intercepted a motorcyclist identified as Javed Siddique near Dua Chowk in Sector 5-D, New Karachi, and tried to rob him. As he put up resistance, the robbers opened fire on him, killing him on the spot.

The incident enraged area residents, who caught hold of one of the suspects and subjected him to severe beating.

Police said that they rescued the seriously

maimed

suspect from the angry crowd and shifted him to the Abbasi Shaheed Hospital, but he died from the wounds.

Police said the victim, Javed, was on his way to attend a marriage ceremony of a friend in the area when he was

bumped off

by the robbers. The victim's maternal uncle took away the body for burial saying the family would lodge an FIR later.

A police official at the Bilal Colony

cop shoppe

said that so far no case had been registered against the mob for lynching the suspected robber.


Posted by: Fred || 07/26/2016 00:00 || Comments || Link || E-Mail|| [226 views] Top|| File under:
Qandeel's cousin turns himself in for police investigation
[DAWN] A cousin of slain social media celebrity Qandeel Baloch turned himself in to police on Monday for investigation.

A senior police officer speaking on condition of anonymity
... for fear of being murdered...
told Dawn.com that Haq Nawaz turned himself in to police at the Kala

cop shoppe

in Dera Ghazi Khan as authorities suspected his involvement in the murder.

Qandeel's brother, Waseem, in his confession claimed to have acted alone and said he had drugged and strangled his sister. Police were, however, looking to investigate Haq Nawaz and his possible involvement in the murder, the police officer said.

Police also made Waseem take a polygraph and DNA tests at a forensic lab in Lahore on Friday.

Qandeel Baloch was strangled to death in her house in Multan's Karimabad area earlier this month. Her father claimed she was killed by her younger brother, Waseem, for honour.
Posted by: Fred || 07/26/2016 00:00 || Comments || Link || E-Mail|| [151 views] Top|| File under: Govt of Pakistan
Science & Technology
NATO Not Ready As Russian Sub Threat Rises: CSIS
"Two things have happened," naval historian Norman Polmar told me. "One, their submarines are quieter, and, two, we have dismantled a large portion of our ASW capabilities."
Posted by: Blossom Unains5562 || 07/26/2016 00:00 || Comments || Link || E-Mail|| [269 views] Top|| File under:
Who's in the News
46
[untagged]
16
Islamic State
5
Govt of Pakistan
3
Houthis
2
Thai Insurgency
2
Taliban
1
Commies
1
Govt of Iraq
1
Ansar Bayt al-Maqdis (IS)
1
Govt of Syria
1
Haqqani Network
1
Hezbollah
1
al-Shabaab
1
al-Nusra
1
Jamaat-e-Ulema Islami
1
Jamaat-ul-Mujahideen Bangladesh
1
Lashkar-e-Islam
1
Sublime Porte
1
Abu Sayyaf
1
Boko Haram
Bookmark
E-Mail Me
The Classics
The O Club
Rantburg Store
The Bloids
The Never-ending Story
Thugburg
Gulf War I
The Way We Were
Bio
Merry-Go-Blog
Hair Through the Ages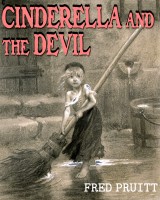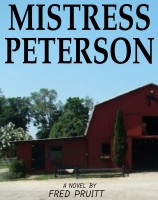 On Sale now!


A multi-volume chronology and reference guide set detailing three years of the Mexican Drug War between 2010 and 2012.

Rantburg.com and borderlandbeat.com correspondent and author Chris Covert presents his first non-fiction work detailing the drug and gang related violence in Mexico.

Chris gives us Mexican press dispatches of drug and gang war violence over three years, presented in a multi volume set intended to chronicle the death, violence and mayhem which has dominated Mexico for six years.
Click here for more information


Meet the Mods
In no particular order...


Steve White
Seafarious
Pappy
lotp
Scooter McGruder
john frum
tu3031
badanov
sherry
ryuge
GolfBravoUSMC
Bright Pebbles
trailing wife
Gloria
Fred
Besoeker
Glenmore
Frank G
3dc
Skidmark
Alaska Paul



Better than the average link...



Rantburg was assembled from recycled algorithms in the United States of America. No trees were destroyed in the production of this weblog. We did hurt some, though. Sorry.
3.226.245.48