Honduran migrant creates instant 'family unit' - purchases infant for $80.
[MAIL] A Honduran migrant admitted to purchasing a baby for $80 in Guatemala after finding out that it was easier for family units to apply for asylum at the United States border.

Amilcar Guiza-Reyes, 51, confessed to immigration agents when he presented himself at the border with the six-month-old boy and was told he would be required to undergo a DNA test.

According to U.S. officials, the undocumented immigrant, Guiza-Reyes reportedly bought the child during his stop in the western Guatemalan town of Huehuetenango and continued his journey through Mexico before reaching the southern U.S. border where he was detained May 7.

The case is one of thousands which officials flagged as potentially fraudulent in recent weeks.

The child, whose name was withheld for privacy reasons, was transferred to the custody of the Department of Health and Human Services for placement.
Posted by: Besoeker || 08/03/2019 08:34 || Comments || Link || [336090 views] Top|| File under:
Landen Hoffman, who was thrown from Mall of America balcony, out of ICU
[NYPOST] The 5-year-old Minnesota boy who was hurled off a Mall of America balcony is no longer in intensive care, a family

front man

said this week.

Landen Hoffman, of Woodbury, has been moved to an inpatient physical rehab program at another hospital as he continues to recover from the extensive injuries he incurred ‐ including two broken arms, a broken leg and fractures to his face and skull ‐ when Emmanuel Deshawn Aranda,


...who has a history of mental health issues and petty criminality, and was twice banned from the mall for harassing strangers...

24, tossed him nearly 40 feet from a third-floor balcony during a random April 12 attack at the mall in Bloomington.

"There is hard work ahead!" family

front man

Noah Hanneman wrote late Thursday on an online fundraiser that has generated more than $1 million in donations from nearly 30,000 people. "And, our beautiful boy has endured much already, but he is strong and his spirit remains vibrant."

The boy's family announced in late June that he was on a "very challenging road to recovery" after enduring more than 15 medical procedures or surgeries since the unprovoked attack, including treatment for fluid in his lungs and stomach and a stent in a vein running through his liver.

Aranda was sentenced to 19 years in prison in June after pleading guilty to attempted murder a month earlier. He previously told authorities he was "looking for someone to kill" at the mall after repeatedly being rejected there by women for years, causing him to "lash out and be aggressive," according to a criminal complaint.

Posted by: Fred || 08/03/2019 00:00 || Comments || Link || [336072 views] Top|| File under:
-Short Attention Span Theater-
Tom Woods interviews Kyle Mann of the Bee (opens to podcast)
[Tom Woods] Kyle Mann, editor-in-chief of the brilliant satire site The Babylon Bee, joins me to discuss comedy, politics, social media, and Snopes' hilarious "fact checking" of what is obviously satire. Sponsor: The Nonviolent Zone makes the case for freedom and against the state in about a hundred pages, and it's the perfect title to hand a curious friend. Through the end of August, the $10 price tag gets you three copies instead of one. Check it out at nonviolentzone.com.
Posted by: Besoeker || 08/03/2019 06:12 || Comments || Link || [336076 views] Top|| File under:
He tried to pick a fight w/ @SebGorka & then thought better
Playboy reporter, CNN analyst Brian Karem says White House suspended his credential over clash with Gorka. Karem described the summit attendees as "group of people that are eager for demonic possession."

"You're a journalist, right?" Gorka shouted from a distance.

"C'mon over here and talk to me, brother," Karem responded. "We can go outside and have a long conversation." So Gorka did come over. Long enough for Karem to realize he'd forgot his white fluffy tail flag.




See link video. As Karem Omar racist right? yells to Gorka, "go home".
Hanson informs the sissy bunny, "for the record, he'd kick your punk ass".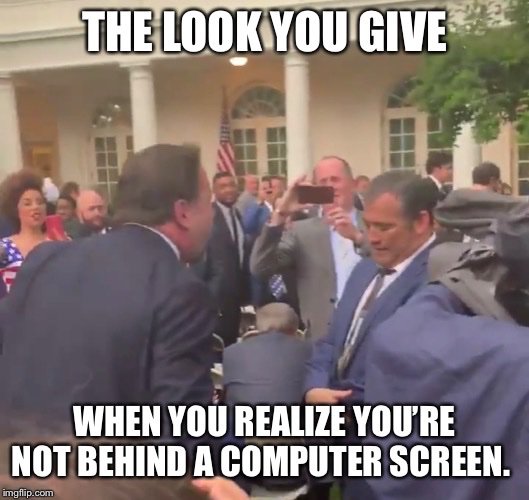 Posted by: Woodrow || 08/03/2019 05:44 || Comments || Link || [336075 views] Top|| File under:
Man quickly finds out he spit on the wrong subway rider's face (video)
[New York Post] A man spat twice in the face of a fellow straphanger as the doors of a subway car closed at 34th Street in Manhattan, thinking he was in the clear because his target was still on the train, video shows.

But his target was able to pry the doors back open ‐ and ran out onto the platform and pummeled him unconscious, according to the footage, which was posted on Reddit.

"He's livid! It's over!" the person filming the clash can be heard saying of the spat-on man.

As other riders ran to break up the fight, the gleeful phone-cameraman advised them to lay off.

"Nah, nah! He spit in his face!" he said.

With his target knocked out cold and the No. 1 train leaving the station, the counter-assailant retrieved his phone off the ground and walked away, all while screaming profanities back at his seemingly unconscious foe.
Posted by: Besoeker || 08/03/2019 00:53 || Comments || Link || [336077 views] Top|| File under:
Frisky elephant attempts to snort off bikini model's top
[NYPOST] An African elephant was caught on camera trying to cop a feel of bikini-clad Playboy model Francia James, who was visiting the Myrtle Beach Safari petting zoo in South Carolina.


A Playboy model? Sounds just like a setup. Is Playboy still in business?




Yes. Though apparently it's no longer monthly, and they recently had a transgender centerfold...

The frisky footage shows James approaching the female pachyderm, named Bubbles, in a barely there string bikini.


I initially thought this was BS. Among Indian elephant the females usually don't have tusks, or if they do, they're rudimentary (called tushes.) African elephants, male and female, do have tusks, though I don't imagine the females' are as large.


As she attempts to pet the 9,000-pound animal, a tusk can be seen wandering around the woman's torso — apparently sniffing her out.


The writer seemingly hasn't ever been to a zoo. That thing wandering around is called a "trunk."


James laughs awkwardly as she attempts to divert the elephant's snorting schnoz.


She wanted a picture, but not a topless picture.


"The trunk felt just like a large man's hand with a high powered vacuum attached!," the scantily clad viral sensation says.


"Mister Zookeeper? Over here! Your elephant has my bikini top stuck in her nostril! Could you get it back, please?"


Meanwhile,


...back at the alley, Slats Chumbaloni was staring into a hole that was just .45 inch in diameter and was less than three feet from his heavily sweating face ...


the Myrtle Beach Safari website says 34-year-old Bubbles was rescued more than 30 years ago, after her herd was murdered by poachers for their priceless ivory tusks.


So the poor thing was three or four years old. African elephants live about the same length as people, 60-70 years. I'm not sure what an epidemic of brassiere snorting would do to the population.


Some thought it was a pretty smooth move on Bubbles' part, but others are calling the stunt "silly" and "fake."


I blame Instagram.
Posted by: Fred || 08/03/2019 00:00 || Comments || Link || [336075 views] Top|| File under:
-Land of the Free
New Law Allows Illinois Schools to Teach Hunting Courses, Gun Safety
[Breitbart] A new law allows Illinois schools to teacher hunter education courses both during, and after school.

Fox News reports that the hunter education course includes a gun safety component.

Central Illinois Proud reports that the bill Gov. J.B. Pritzker signed, HB 3462, allows each school district to decide if they will offer a hunter education course.

Teacher Joseph Villarreal spoke out against teaching hunting education and gun safety, saying, "Guns and schools do not mix. And as a school teacher, I believe that we should not promote anything that is gun related." But State Sen. Jason Plummer (R-Edwardsville) presented the other side of the argument, saying, "Students who are exposed to lessons in hunting safety have a greater chance of respecting firearms and using them properly for the rest of their lives."

Plummer added, "As the law is shifting to emphasize the importance of safe handling, adopting legislation like this could make for an accessible path for students to learn these methods in-depth, early on in their lives."

The NRA's Lars Dalseide explained that the state Board of Education must still set guidelines for course. Yet he made clear that "it's encouraging to see Illinois agree to provide courses that teach the safe and responsible use of firearms."
Posted by: Besoeker || 08/03/2019 00:00 || Comments || Link || [336077 views] Top|| File under:
Britain
Hooker mom sentenced for killing daughters who 'got in way' of sex life
[NYPOST] A depraved UK mom will spend the next three decades in prison for killing her two young daughters who "got in the way" of her sex life, a court heard this week.

Casey Anthony with bad teeth Louise Porton, who was a whore prostitute lady of the evening sex worker, was found guilty Thursday in Birmingham court for the murders of her 3-year-old Lexi Draper and 17-month-old Scarlett Vaughan, The Sun reported.

The 23-year-old mom was ordered to serve 32 years to life in prison for the murders, which were within three weeks of each other.

Prosecutors said the mom suffocated Lexi on January 14, 2018, at her home before strangling the younger sister 18 days later.

"At times, her two children got in the way of her doing what she wanted, when she wanted and with whom she wanted," Prosecutor Oliver Saxby told the court.
Posted by: Fred || 08/03/2019 00:00 || Comments || Link || [336065 views] Top|| File under:
Caribbean-Latin America
Death From Above: The Use of Police Helicopters in Rio de Janeiro
[InSightCrime] Rio de Janeiro police are increasingly using helicopters to fire on suspected criminals in what is another representation of the governor's hardline crime policies.

A recent report by Globo has highlighted the increased use of the "caveirão voador" (flying skull) by Rio police. The caveirão voador is the nickname given to armored helicopters used by the police for monitoring and increasingly, as airborne platforms to fire into favelas.

Helicopters have been used 86 times in the past year, a more than 200 percent increase over 2017. A large portion of these flights, 38 percent, occurred in the north of the city, mainly focusing on the favelas of Maré and Pedreira. Another major area targeted was the Western Zone of the city, accounting for 25 percent of the flights.
Posted by: Besoeker || 08/03/2019 08:10 || Comments || Link || [336078 views] Top|| File under:
Economy
Another Great Month for US Employment
from the Dept of Labor website


[BLS.GOV] Total nonfarm payroll employment rose by 164,000 in July, and the unemployment rate was unchanged at 3.7 percent, the U.S. Bureau of Labor Statistics reported today. Notable job gains occurred in professional and technical services, health care, social assistance, and financial activities....
In July, the number of persons unemployed less than 5 weeks increased by 240,000 to 2.2 million, while the number of long-term unemployed (those jobless for 27 weeks or more) declined by 248,000 to 1.2 million.


personally, I have doubts about the magnitude of this one month decrease in long term unemployment, as it is from the household survey, but even if it were only half as much as reported it is still wonderful news showing that even people with 6 months of unemployment are willing and able to find jobs.



Posted by: lord garth || 08/03/2019 00:00 || Comments || Link || [336068 views] Top|| File under:
India-Pakistan
Man gets 29-year jail term for throwing acid on varsity teacher in Lahore
[DAWN] LAHORE: An anti-terrorism court on Thursday awarded a man collective imprisonment of 29 years on different counts after finding him guilty of throwing acid on a private university's teacher a month before her marriage, in January 2014.

Umar Farooq had attacked Huma Shahid with acid when she was going home from the university on an auto-rickshaw on College Road, Green Town.

Farooq was

riding double, sometimes triple or quadruple

with his friend Abdul Haq on a

cycle of violence

when they intercepted the rickshaw and threw acid on Ms Shahid.

The police investigation revealed that Farooq was friend of Ms Shahid's fiancé and sent a marriage proposal to her. However,


ars longa, vita brevis...


the victim's family rejected the proposal and also complained to the convict's parents.

Farooq nurtured a grudge against Ms Shahid and in connivance with his friend threw acid on her.

Satokatla police had arrested Haq who was handed down 14-year term by the trial court.

Meanwhile,


...back at the wine tasting, Vince was about to start on his third quart...


Farooq fled to Dubai where Interpol arrested him in April 2017 and handed him over to Pak authorities.


Posted by: Fred || 08/03/2019 00:00 || Comments || Link || [336073 views] Top|| File under:
India's ruling party expels lawmaker accused of rape
[DAWN] A prominent politician in India was expelled from the ruling Bharatiya Janata Party on Thursday amid waves of public outrage after a deadly car crash left a woman who accused him of rape

at death's door

.

The expulsion came after the BJP was criticised for not taking stern action against Kuldeep Singh Sengar, the accused

politician

from the northern Indian state of Uttar Pradesh. Sengar is in jail awaiting trial and could not be reached for comment, but has previously denied the rape allegation.

The woman's family accuses Sengar of plotting the Sunday crash that involved a speeding truck that had its number plate painted black. The woman and her lawyer were critically

maimed

and two of her relatives were killed. Police arrested the truck's driver and owner.

The state police first described it as an accident, but on Wednesday the federal Central Bureau of Investigation said it had opened a case to look into murder and conspiracy allegations against the accused politician.

The family has claimed that they had been threatened by the accused politician's associates multiple times.

King George's Medical University doctors said on Thursday that the woman remained unconscious and

at death's door

with a head injury and multiple leg fractures.

India's Supreme Court ordered the woman and her lawyer shifted from Uttar Pradesh to India's capital for further treatment if the family members agreed. The court also directed the investigating agency to complete the probe into the crash within a week.


Posted by: Fred || 08/03/2019 00:00 || Comments || Link || [336064 views] Top|| File under:
Rawalpindi court sends man accused of kidnap, sexual assault of minors in 29 cases to jail
[DAWN] A local magistrate court in Rawalpindi on Friday sent a suspect accused of kidnapping and sexually assaulting children in Punjab
1.) Little Orphan Annie's bodyguard
2.) A province of Pakistain ruled by one of the Sharif brothers
3.) A province of India. It is majority (60 percent) Sikh and Hindoo (37 percent), which means it has relatively few Moslem riots....
to jail for an identification parade.

According to Rawalpindi City Police Officer (CPO) Mohammad Faisal Rana, 29 cases were registered against the suspect in Punjab ‐ 15 in Mianwali district, seven in Layyah district, two in Muzaffargarh, four in Rawalpindi and one in Islamabad.

Speaking to DawnNewsTV, CPO Rana said that CCTV footage had been used to identify the suspect and following a technical investigation, he was arrested from Adiala Road in Rawalpindi on Thursday night. After his arrest, the

cycle of violence

used in the incidents was also recovered.

The police officer said that the suspect, who has been sent to jail on judicial remand where complainants and witnesses will be called for identification, had assaulted some children and attempted to assault others after kidnapping them. Rana added that the suspect used to kidnap 10 to 12-year-old girls and in a month he had kidnapped eight children. The children would then be dropped off in the vicinity of the area where they had been picked up.

CPO Rana said that the complainants of the cases against the suspect had been informed of his arrest and orders to register pending cases against him were also issued.

The police officer said that an example would be made of the suspect so that in the future, no one dared to commit such a "disgusting act against the daughters of the nation".


Posted by: Fred || 08/03/2019 00:00 || Comments || Link || [336078 views] Top|| File under:
Lahore man arrested for indecent exposure, harassment
[DAWN] Lahore police on Friday arrested a man suspected of exposing himself and harassing women in the city.

According to a handout from the police, a woman had uploaded a video on Twitter of a young man exposing himself while travelling on a

cycle of violence

. She had further alleged that he was a routine offender and demanded that police take action against the suspect.

Capital City Police Officer (CCPO) BA Nasir subsequently directed Saddar Superintendent of Police (SP) Ahsan Saifullah to take up the matter himself. Through the identification of his

cycle of violence

number, the SP was able to arrest the suspect.

A case was registered against him under Sections 294 (obscene acts and songs in public) and 268 (public nuisance) of the Pakistain Penal Code.

CCPO Nasir appreciated the prompt action of the Saddar division and emphasised greater social engagement on incidents related to sexual harassment.

"Harassing women is unfortunate. All walks of life should come forward to root out this emerging evil social practice," he said.

On Saturday, a similar incident had been reported from the city. A man had been arrested for chasing a group of girls and sexually harassing them after a social media user described the ordeal she and her friends went through in a series of tweets.


Posted by: Fred || 08/03/2019 00:00 || Comments || Link || [336069 views] Top|| File under:
Monsters kidnap toddler in India before raping, beheading her
[NYPOST] Two savages kidnapped a 3-year-old girl from a train station in India, gang-raped her, and when she screamed, cut off her head, according to horrifying reports.

The toddler, whose abduction was captured on surveillance footage, was sleeping next to her mother July 25 at Tatanager train station in the state of Jharkahnd when one of the monsters scooped her up, the Times of India reported.

Her mother later found the girl missing and reported her disappearance to police, who reviewed video of the incident.

The footage showed the woman's boyfriend, Rinku Sah, picking up the sleeping girl from the train platform.

Sah, 36, then brought her a couple miles from the station to a scrapyard, where he and another man raped her, the news outlet reported.

When she started to scream, Sah allegedly took a sharp object and beheaded the tot. He then stuffed her body in a bag and dumped it near the lot, according to reports.

Both Sah and his alleged accomplice, Kailash Kumar, have been charged in connection with the murder, the Times of India reported.
Posted by: Fred || 08/03/2019 00:00 || Comments || Link || [336064 views] Top|| File under:
Science & Technology
'Talking lasers' that beam messages to our ears in the works: Pentagon
[NYPOST] Weapons researchers at the Department of Defense have been working on less deadly means of warfare, including this laser weapon that can send brief messages — in the form of audible speech — across short distances — and through glass. The device is being developed as part of a military initiative, the Joint Non-Lethal Weapons Directorate.


Hokay. So people are worried about cell phones giving them cancer. I guess it's more effective to just shoot you in the ear with a laser.


To make what seems like science fiction a reality, scientists use a phenomenon of physics called the Laser-Induced Plasma formation. First, they fire a powerful laser that creates a ball of plasma. Then, a second laser works to oscillate the plasma, which then creates sound waves.

Done right, these laser bursts can mimic human language, chief scientist Dave Law tells Military Times, adding that the technology could be ready for battle in as few as five years.

A video shared by the news site features the weapon saying, "Stop or we'll be forced to fire upon you."


"Please cease activity or I shall be forced to [ZAP!] terminate your existence..."


Scientists say these laser-grams will soon be able to beam hundreds of miles away, making it possible to send orders down from an aircraft or caution trespassers against entering military bases (looking at you, Area 51 raiders!) — all the while keeping service men and women out of harm's way.
Posted by: Fred || 08/03/2019 00:00 || Comments || Link || [336068 views] Top|| File under:
Home Front: Culture Wars
McDonald's Employee Fired After Refusing To Serve Paramedics
[Townhall] They're popping up all over the country. Stories about first responders being refused service or harassed at various establishments, whether that be for coffee or engagement rings, it's becoming a recurring theme. It's disturbing, though undoubtedly fueled in part by the ranks of the politically correct and the Black Lives Matter crowd. We had a sheriff's deputy in North Carolina barred from picking up his engagement ring because he was carrying his service weapon. Five police officers in Tempe, Arizona were told to leave a local Starbucks because some snowflake was triggered by their presence in the establishment. And now, some Florida snowflake didn't want to serve anyone with a badge. Oh, sorry‐let me rewind for a second; a McDonald's employee was fired because she refused to serve…a paramedic. Yeah, even after the first responder said he wasn't a police officer, she still refused service. The incident occurred in Madeira Beach, Florida (via ABC Action News, Tampa Bay):


A McDonald's employee was fired after turning away Sunstar paramedics Wednesday night.

Sunstar paramedic Anthony Quinn accused the employee at the McDonald's in Madeira Beach of refusing to provide service to him and his partner, according to a review he left.

Quinn's review stated that he went into the restaurant in his uniform to use the restroom when the employee told him "we don't accept officers in here." After telling her that he wasn't an officer she proceeded to say that they didn't accept "anyone with a badge."

After Quinn's partner walked in to order food, the employee, according to his review, told him "we don't serve your kind here."


McDonald's moved quickly to squash a potentially explosive public relations nightmare:


"We are aware of the unfortunate incident that took place at one of our restaurants last night. We, like you, were upset and disappointed and took immediate action. The employee has been terminated. What occurred does not reflect the values of our brand, our franchise, or the love and admiration we have demonstrated consistently for our friends in law enforcement and first responders. We have reached out to offer our sincerest apology."
Posted by: Frank G || 08/03/2019 08:40 || Comments || Link || [336093 views] Top|| File under:
Government
Top State Department adviser fired over 'abusive' management style
[Politico] Kiron Skinner, the director of the Policy Planning Staff, was told on Thursday that she was being dismissed.

A senior adviser to Secretary of State Mike Pompeo was fired this week over what officials described as her "abusive" management style, including making homophobic remarks and accusing people of having affairs, according to two people.

Kiron Skinner, the director of Policy Planning, was told Thursday that she was being dismissed, a Trump administration official said. A senior State Department official also confirmed the firing, saying that several members of Skinner's staff had threatened to quit if she wasn't removed.

Two other State Department officials said Skinner acted unprofessionally in multiple ways, including yelling in public spaces and using homophobic language. She retaliated against employees by kicking them out of their offices and even alleged that some people were having affairs, the two officials said.

"It was an abuse of authority," one of them said.


Posted by: Besoeker || 08/03/2019 01:10 || Comments || Link || [336090 views] Top|| File under:
Who's in the News
38
[untagged]
5
Taliban
2
Hamas
2
Govt of Pakistan
2
Sublime Porte
2
al-Qaeda
1
Govt of Sudan
1
Govt of Syria
1
Houthis
1
al-Nusra
1
al-Qaeda in the Arabian Peninsula
1
Commies
1
Govt of Iran
Bookmark
E-Mail Me
The Classics
The O Club
Rantburg Store
The Bloids
The Never-ending Story
Thugburg
Gulf War I
The Way We Were
Bio
Merry-Go-Blog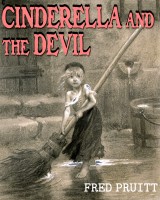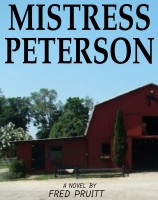 On Sale now!


A multi-volume chronology and reference guide set detailing three years of the Mexican Drug War between 2010 and 2012.

Rantburg.com and borderlandbeat.com correspondent and author Chris Covert presents his first non-fiction work detailing the drug and gang related violence in Mexico.

Chris gives us Mexican press dispatches of drug and gang war violence over three years, presented in a multi volume set intended to chronicle the death, violence and mayhem which has dominated Mexico for six years.
Click here for more information


Meet the Mods
In no particular order...


Steve White
Seafarious
tu3031
badanov
sherry
ryuge
GolfBravoUSMC
Bright Pebbles
trailing wife
Gloria
Fred
Besoeker
Glenmore
Frank G
3dc
Skidmark



Better than the average link...



Rantburg was assembled from recycled algorithms in the United States of America. No trees were destroyed in the production of this weblog. We did hurt some, though. Sorry.
18.206.12.157

Help keep the Burg running! Paypal: